Effectrode
Regular price
$449.00 USD
Regular price
Sale price
$449.00 USD
Unit price
per
Sale
Out of Stock
FREE 2Day Shipping

USA Free 2 Day Shipping

Canada 15USD Flat Rate*

Worldwide 30USD Flat Rate*(Wherever you are)

Flat Rate means no additional charge for more than one pedal.
No Hassle Returns

Just let us know within 30 days.

If there's a malfunction, shipping's on us.
Effectrode's Tube-Vibe is a no-compromise re-design of the Shin-Ei Shiftee Uni-Vibe used to create many classic recordings by artists such as Dave Gilmour , Robin Trower and Jimi Hendrix. This innovative effects pedal contains the same four photocells, light bulb and stagger-tuned capacitors as the original Uni-Vibe, however instead of budget transistors it utilises premium vacuum tubes in the pre-amplifier , mixer and phase-shift circuitry. High-quality , audio grade components coupled with this pure tube signal path give the Tube-Vibe a velvet richness and dimensional tone which was unattainable with the Uni-Vibe – your guitar tone will remain pristine and intact with no loss of lows or highs. The lamp/photocell driver circuit is capable of extremely smooth sweeps and deep, swampy tones for a powerful and distinct signature vibe sound. The resulting audio quality is outstanding – significantly better than the original Uni-Vibe or any of the modern re-issues! Thank you for trusting Effectrode to be your effects
 
Expression pedal input allows the speed of the sweep to be controlled with an expression pedal. 


External VCO The Tube-Vibe modulation speed can also be controlled using an external VCO (voltage controlled oscillator). Voltage range must be 0 to 5 volts.


Classic/Smooth switch selects between the classic, deep Uni-Vibe throb (switch 'up') and smoother , more ethereal chorus voicing (switch 'down').


Internal Blend trimmer allows the 'dry' and effectified signals to be mixed in continuously in any proportion for a wide palette of tonal textures. When fully counter-clockwise only 'dry' signal is present and when fully clockwise only effectified signal is present. If the Blend trimmer is set near the center 12 o'clock position then the mix of the 'dry' and effectified signals are balanced, producing lush, liquid-chorus Hendrix/Trower sounds. The notchdepth and thus the depth of the vibe can be finetuned by adjustment around this center position. Rotating this control counter-clockwise will reduce the vibe depth by decreasing the notch depth. To access the Blend trimmer, first disconnect the power to the pedal, carefully unscrew the six screws underneath the pedal and then remove the baseplate


Speed knob controls the rate of notch sweep across the audio spectrum. In counter-clockwise positions the modulation rate will be at it's slowest to create a dreamy , swirling and spacious effect. Turning this knob fully counter-clockwise will 'freeze' the sweeping of the notches to produce hollow sounding acoustic timbres. Rotating the knob clockwise produces a progressively deeper, swampy sound simulating a 'Leslie' rotating speaker system.


Intensity knob is used to restrict the sweep of the vibe for more subtle effects. In chorus mode it controls the thickness & throb of the vibe sound. Centering this knob at the 12 o'clock position is good starting point for achieving a classic Uni-Vibe chorus effect. In vibrato mode, it minimizes pitch de-tuning, making the sound more useable (slow vibrato with full sweep produces a seasick sound).


Volume knob sets the output level when the TubeVibe is engaged. In the centre 12 o'clock position gain is roughly unity. Turning this control fully clockwise yields a substantial +6dB of gain boost, which allows this pedal to be seamlessly matched and integrated into any rig or studio set-up.


Chorus/Vibrato switch selects between the classic Hendrix/Trower Uni-Vibe chorus (switch 'down') and de-tuning pitch-bend vibrato. (switch 'up')
View full details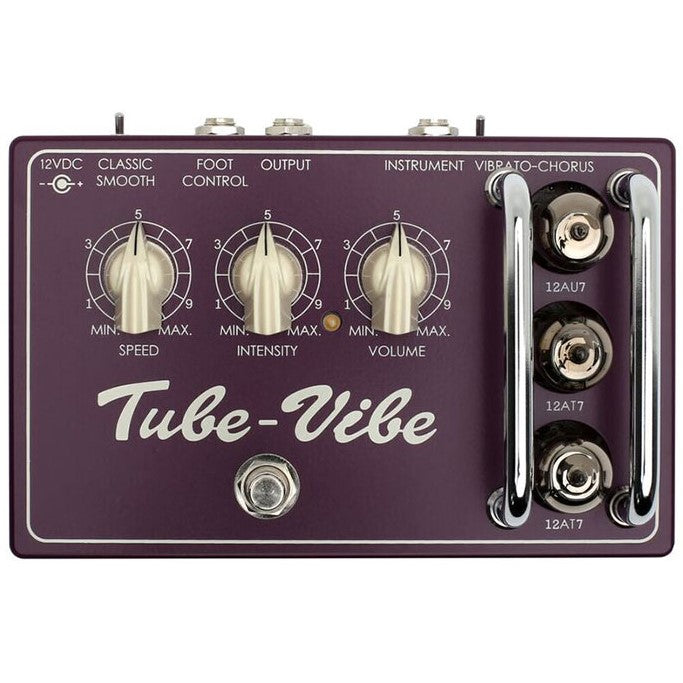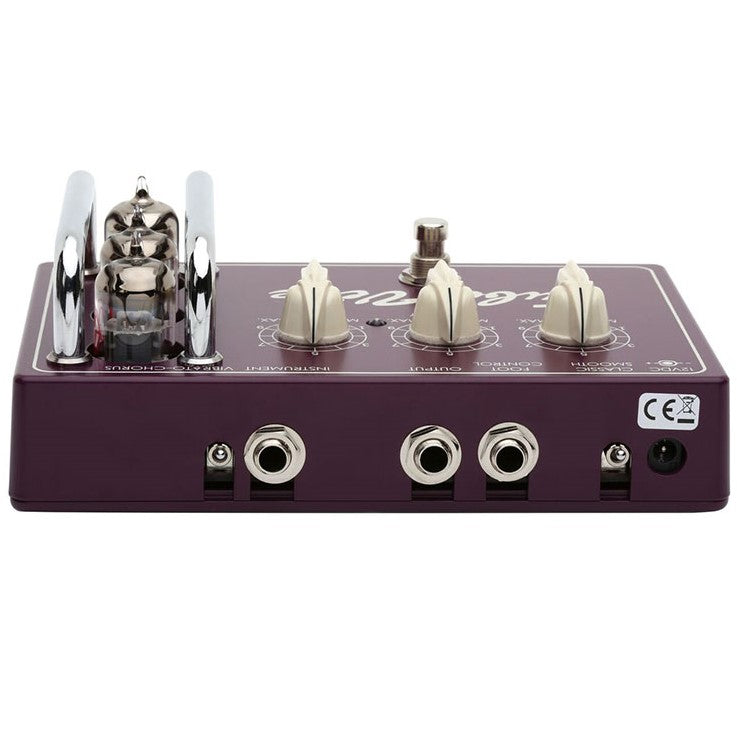 Unbelievable!
I had been eyeing an Effectrode Tube-VIbe for a while. Although the price was a bit off putting I eventually saved enough to score one..and it was worth the wait and the money. Phil Taylor of Effectrode has done an outstanding job recreating the original Shin-ei UniVibe of the late 60's. Smooth and ethereal this pedal kicks Pink Floyd ass! Hendrix would have loved it!
Robin Trower in a box
Not sure how much the tubes impact the sound but what I do know is that there are two camps of univibe, those you keep till you die and those that belong in the trash. And I'm happy to inform you that this one falls into the former category. It accepts low end frequencies really well, thus making it ideal for being placed after your favorite fuzz when you wanna get wiggy with jimi. Works just as well clean with the intensity dimed and speed slow for a psychadelic country balad. Launch into space cowboy.