Mid-Fi Electronics
Regular price
$140.00 USD
Regular price
Sale price
$140.00 USD
Unit price
per
Sale
Out of Stock
FREE 2Day Shipping

USA Free 2 Day Shipping

Canada 15USD Flat Rate*

Worldwide 30USD Flat Rate*(Wherever you are)

Flat Rate means no additional charge for more than one pedal.
No Hassle Returns

Just let us know within 30 days.

If there's a malfunction, shipping's on us.
Lo-Fi
Mid-Fi Electronic's "Scrape Flutter" is Envelope controlled, phase shift based vibrato, with sidechain induced intermodulation distortion and various ugly artifacts. 
Scrape flutter—a high frequency flutter of above 1000 Hz—can sometimes occur from the tape vibrating as it passes over a head, as a result of rapidly interacting stretch in the tape and stiction at the head. It adds a roughness to the sound that is not typical of wow and flutter, and damping devices or heavy rollers are sometimes employed on professional tape machines to prevent it. Scrape flutter measurement requires special techniques, often using a 10 kHz tone
View full details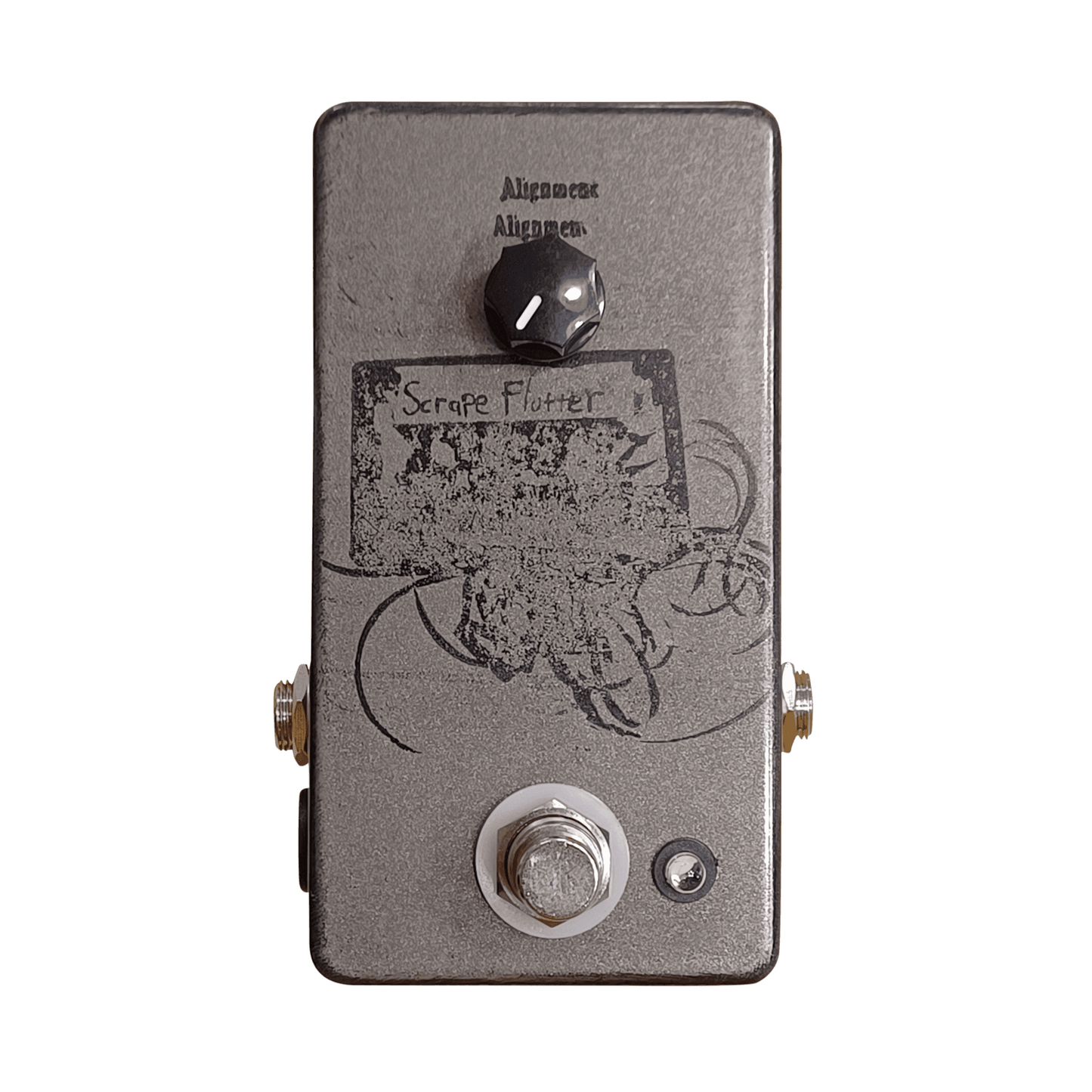 A dash of wobble and static
Nice addition to my pedal board. I have a pedal that can also spit out random staticky artifacts, but it is really an overdrive that doesn't play well with my other overdrives. The Scrape Flutter is something I can add on top of any of my overdrive or fuzz pedals. I like having something I can add in as desired. It does work best if fine tuned to the specific other pedal I have on, but can also just be cranked up to always be spitting out some random noise. And the tape wobble thing is great too.
Original flavor
There aren't any pedals like this out there. It might seem simple with only one knob but its able to transform any drive, distortion or fuzz pedal you have. I love the sound of tape but don't like delay, so this was a nice way of getting that sound in real time. Very responsive.
It took me a minute to get it..
I didn't like this pedal at first... I used it a bunch with other pedals and I couldn't get it to sound how I wanted. I then I realized how sensitive the knob actually is and how the slightest turn can change the output so much. When making adjustments I have to slightly bump the knob up and down to find the sweet spot. Once dialed in to the tone or with other pedals this thing is really nice. Like most pedals you def need to spend some time to find what makes this pedal sing.
Unique teacher
Scrape flutter is a kind of unique pedal. I got interested in the subtle sides and the feeling of randomness in it in internet although the other sides also sounded eccentric enough to my ears (I am not a big friend of "normal" fuzz etc.). The first impressions back at home were, though, mixed: it sounded excellent but I just thought if can I find any use for the dirtier sides. Nevertheless, the pedal has taught me, and when combining it with other pedals I find that there's plenty of usability and new zones to dive in. Seems to be so far a clear keeper, thanks!
Cherry on top for LoFi and Classic / Psych Rock
This thing rocks! Due to its nature it's labeled LoFi and might not attract certain players but it can growl and really color your tone too in an authentic classic kind of way. Its one knob but so expressive. You can turn it up just a little bit to 8pm, add some slap back from another pedal, and you got some nice character for your riffs.
It reminds me of this decades old vintage Princeton I got to play and it would flutter a lot. People probably paid a few thousand for that amp when they could have just got this pedal!
I can't recommend midfi electronics enough. These come in a variety of colors too!