Mid-Fi Electronics
Regular price
$200.00 USD
Regular price
Sale price
$200.00 USD
Unit price
per
Sale
Out of Stock
FREE 2Day Shipping

USA Free 2 Day Shipping

Canada 15USD Flat Rate*

Worldwide 30USD Flat Rate*(Wherever you are)

Flat Rate means no additional charge for more than one pedal.
No Hassle Returns

Just let us know within 30 days.

If there's a malfunction, shipping's on us.
Phaser / Vibrato
Mid-Fi's "Random Phase and Vibrato" Pedal contains two Parallel Phase shift based vibratos. With the knob full left you'll hear, a 3 stage vibrato with a random LFO. With the knob full right you'll hear, a stronger 5 stage vibrato with it's own slightly more active random LFO. As you move the knobs towards the center the two begin to blend together and create various shades of random phase cancellation.
View full details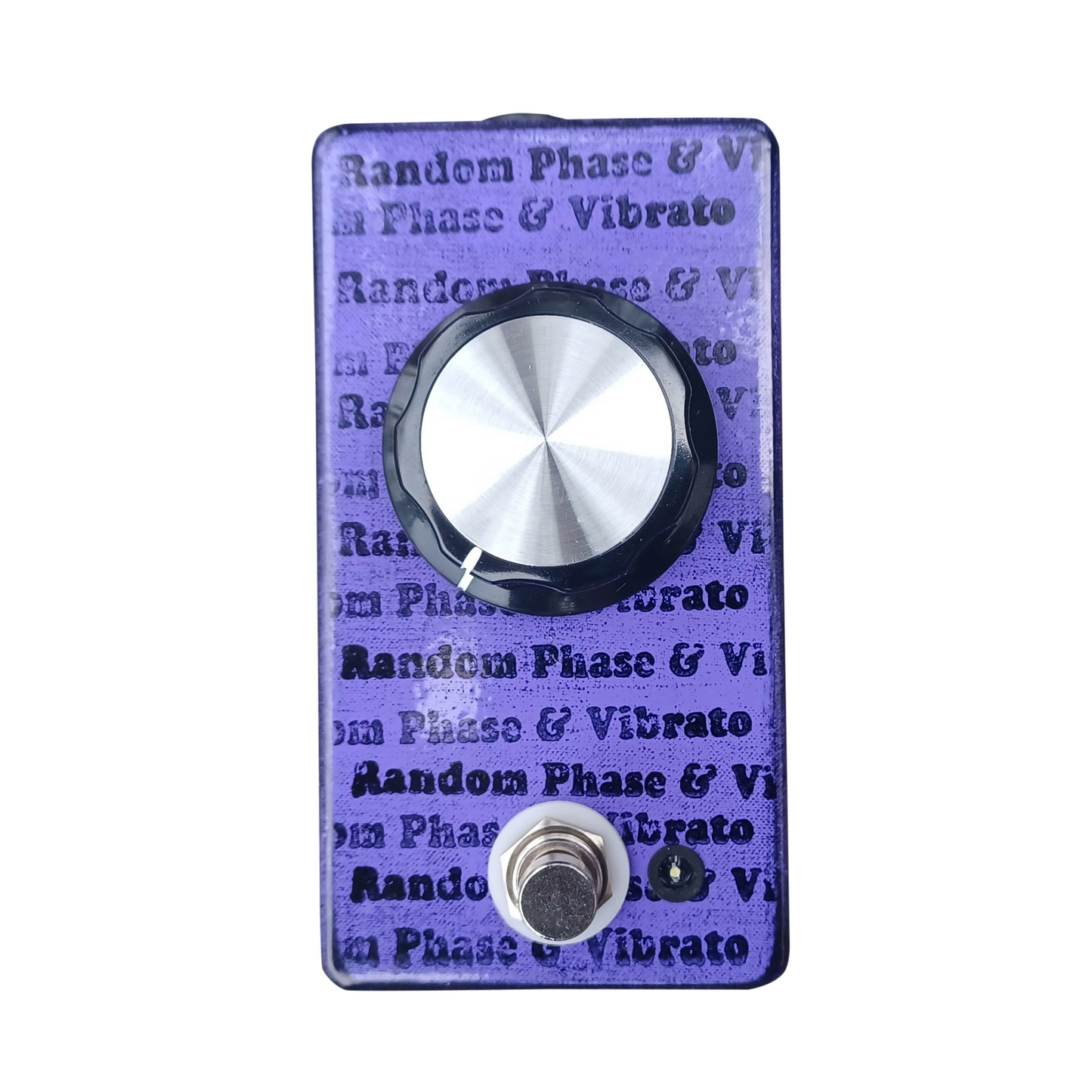 Interesting idea
Looking for something different, this seemingly simple one knob pedal triggers surprisingly complex results.
Unpredictable and exciting
This pedal won't do what I want it to do and thats why I love it! Not knowing how itll perform is part of its charm and has been excellent for creating synth like pads with by guitar.
One knob wonder!
There's always something bold and intriguing about a one knob pedal. I am a fan of mid-fi pedals to begin with, but this is the one I keep returning to and play through most often because it is an incredibly "musical" pedal that adds movement and unpredictability to guitar riffs and phrases that might sound stagnant otherwise. It can go from subtle to psychedelic and there are many sweet spots along the way as you turn the knob. Really organic tone that gets you Pink Floyd or Tame Impala like vibes for days. When a pedal actually inspires you to write songs, it's a keeper!
No. No I won't do what you tell me.
Tons of pedals out there do weird and do it proudly. Weird for weird's sake.
They're fun. You'd invite them to a party or dinner if they were a human, y'know, to kick things up a notch.
But 10 minutes into the party and they're all WOOHOO, taking over the conversation and the novelty has worn off.
So you bring in the old reliable...the predictable ones. They do their thing. It's okay, it's alright. They're pleasant. They're....nice.
Then there's this little thang. It struts up to your rig, doffs it's hat...then proceeds to shimmy shake a leg here, a finger there, an eyebrow everywhere. It teases and flits in and out of the shadows, intriguing and tempting but never giving more than a fleeting taste. Just enough to keep you hanging on, to add interest to anything it touches.
This is a pedal designed to animate and give life, but it never allows your ear to latch to a predictable pattern or tangible named waveform, and you cannot tell it exactly what to do...just suggest a general direction. Weird. But it is a musical weird that at every minute of the dial gives a beguiling musical flavour that your musical ear loves and wants more of but never gets sick of. Musically. Getting that?
From gentle tonal colourings to mind-spinning kaleidoscopic sonics the Random Phase & Vibrato does exactly what it says on the tin. But it also doesn't. And it'll make anything you create that much more interesting. You hope.
It will.
Make me weird
I spoke with Doug before I bought this pedal because I wasn't sure which pedal I wanted. I said "I want it to get weird". He responded "say no more". This is such a unique pedal. It can be an always on kind of thing or for that one part where you want the audience to pass out from the vibe. Highly recommend.