Intensive Care Audio
Regular price
$199.76 USD
Regular price
Sale price
$199.76 USD
Unit price
per
Sale
Out of Stock
FREE 2Day Shipping

USA Free 2 Day Shipping

Canada 15USD Flat Rate*

Worldwide 30USD Flat Rate*(Wherever you are)

Flat Rate means no additional charge for more than one pedal.
No Hassle Returns

Just let us know within 30 days.

If there's a malfunction, shipping's on us.
Dimensions

Length: 126 mm / 4.9 in
Width: 88 mm / 3.4 in
Height: 45 mm to 27 mm / 1.8 in to 1.1 in
Specifications

Current consumption:50mA
9v centre negative 'boss style' power supply.
Manufacturers life time warranty
Soft-touch relay based true bypass
Foot switch toppers included as standard
All analogue, discreet, transistor based audio path circuity
Natural tube amp like character
Wide gain range
Pre and post tone stack gain controls
Intensive Care Audio's "Death Drive" is an original, all analogue overdrive and distortion pedal for the treatment of Bland Guitar Syndrome and Excessive Aural Dryness. Used regularly it can provide effective relief from these, and other music and instrumentation related conditions.
Ego: Controls the overall volume of the effect. The DEATH DRIVE is a high output device, suitable for pushing tube amplifiers further into breakup. 
Destruction: Ranging from subtle to extreme, the destruction control dictates the severity of the distortion. At lower settings it provides natural, tube-like distortion full of vintage character. At higher settings the distortion becomes pleasantly compressed and saturated whilst still retaining clarity and individual note definition.

Drive: Operates as a secondary gain control. Used in conjunction with the Destruction control it allows you to fine tune the exact saturation of your signal. The two gain controls are interactive and provide a wide range of tonal remedies. 
Mood: Controls the pre-gain tone shaping of the distortion. It has been deliberately voiced to provide useful tone shaping within the full range of the control, meaning there are no useless settings at either extreme.

View full details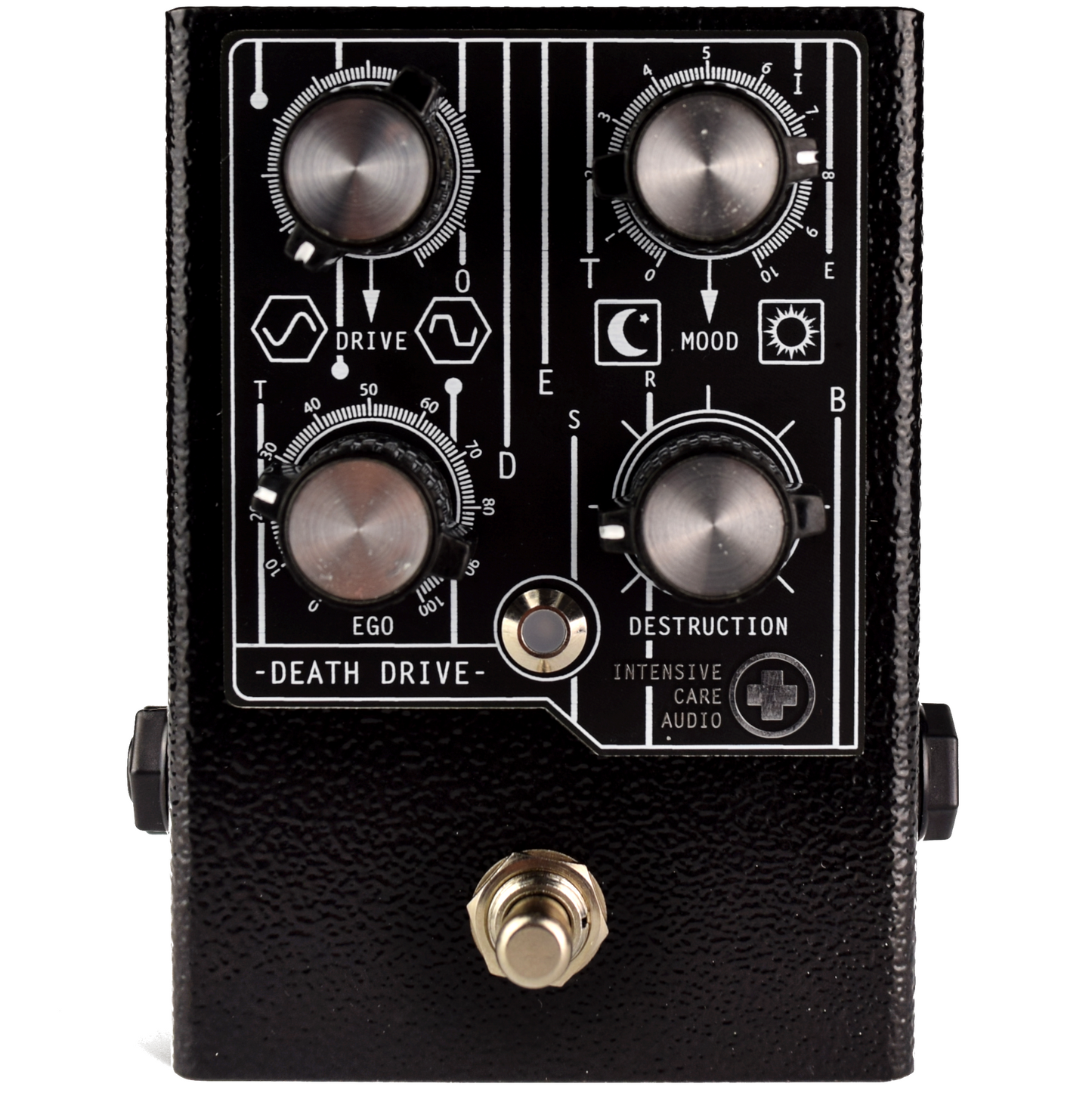 Nice Tone, Very Noisy
I really liked the dyanmics on it. It seems to be in the neighborhood of a Rat, but it's definitely got its own sound that sets it apart. Apart from that, the noise that comes from this thing is too much for me. It's above and beyond the noise from any of my other pedals.
Oui Chef
Had to borrow a pal of mine's for this review and I didn't want to give it back. Great distortion here, can get a range of organic to shred with this unit. For sure worth the money. The sounds you can get out of this won't disappoint, design and build quality are top tier as well. I hope by the time you're reading this I've grabbed one for myself!
Intensive Care Audio Death Drive
I thought I didn't need another distortion box, but I tried this one anyhow, and now it's my favorite!
A unique pedal, in that the drive and destruction controls work together for a variety of clean boost, vintage overdrive and mega distorted tones. I have found this to be a great distortion/fuzz that's covers a ton of ground, and sounds great with single coil and humbucking pickups. Extremely aggressive without sounding too "Metal"(but, it can do that too). Fantastic design and rock solid construction are standard with every Intensive Care Audio product.