Mattoverse Electronics
Regular price
$139.00 USD
Regular price
Sale price
$139.00 USD
Unit price
per
Sale
Out of Stock
FREE 2Day Shipping

USA Free 2 Day Shipping

Canada 15USD Flat Rate*

Worldwide 30USD Flat Rate*(Wherever you are)

Flat Rate means no additional charge for more than one pedal.
No Hassle Returns

Just let us know within 30 days.

If there's a malfunction, shipping's on us.
The AirTrash is a pedal for guitar or bass that sounds like absolute garbage. I was breadboarding an idea and happened upon some absolutely sickening sounds, like really bad, but couldn't stop playing it.  I spent a lot of time trying to refine and improve it, make it less noisy, more controllable etc.. but these changes always ended up sucking the fun right out of it so decided let it be the simple disgusting beast that it is.
It "works well" with guitar or bass and usually sounds best with the guitar or bass plugged straight into it (first in the pedal chain), didn't do much for me at all on synths or drum machines.  It's very sensitive to pick attack and input volume.
The blue knob controls the output level.  I could not come up with words to properly describe what the red and yellow knobs do so I created those little icons in an attempt to illustrate what words could not describe.
Pedal Secrets


Air Trash Lizard
View full details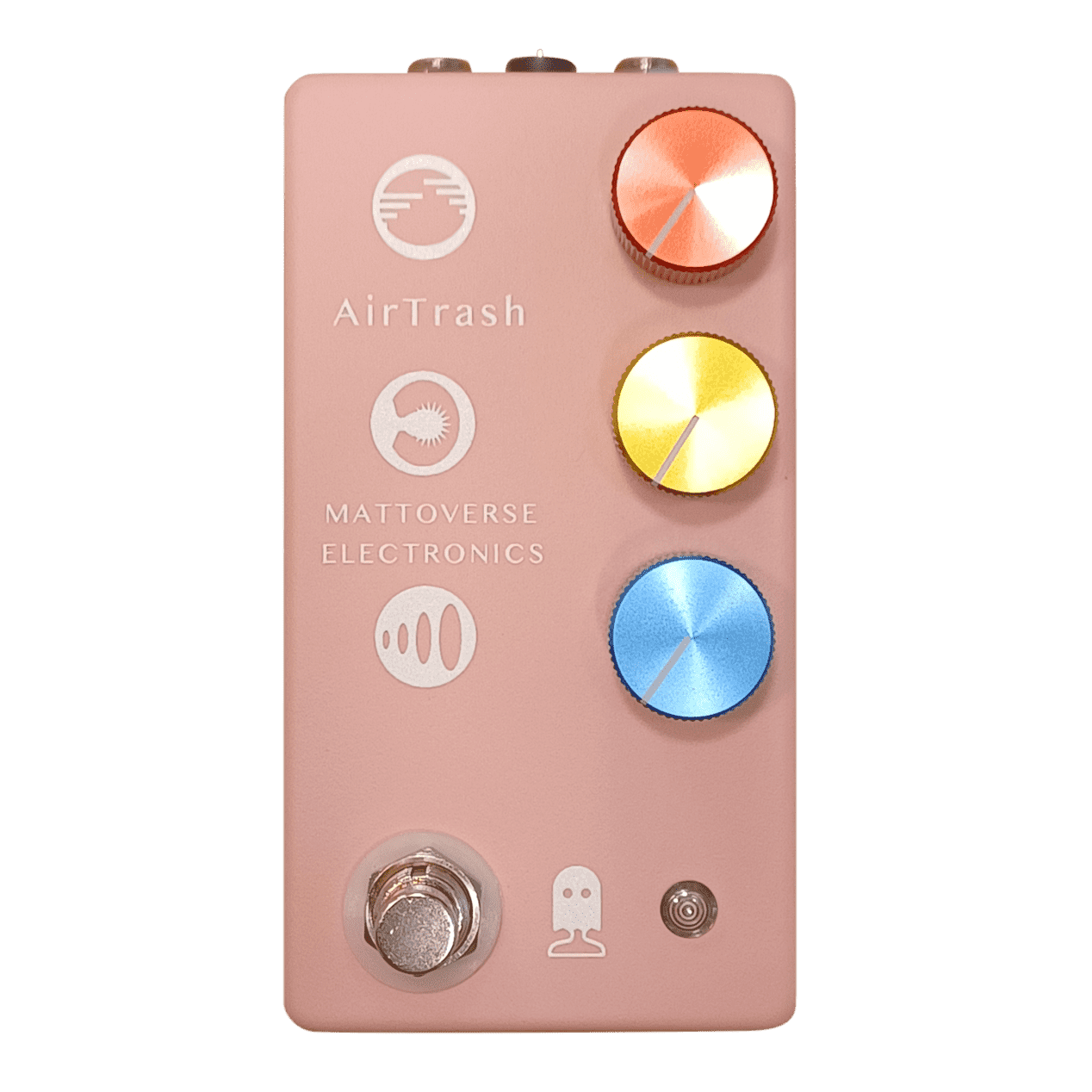 Throbbing mass of fun
Great pedal, not for the faint of heart. Goes from smashed up fuzz to static filled warbling weirdness. Lots of fun just twisting knobs every which way. Great for trying to recreate the sound of industrial bands of the 70s and 80s.
Rad
In a post apocalyptic world, this would be the sound for the new global anthem. Radioactive noise, with this you can be the hanatarash of the 22nd century.
Harsh and broken!
Its horrible in all the ways I want. Its a challenge to use which is great, it challenges me to come up with creative ways to use it.
Dying car battery
Gated fuzz beyond comprehension. I love double tracking with this, the flubby velcro nastiness contrasts whatever else you have in the signal. This will leave you exploring for hours. But the built in presets are much appreciated for moments when you don't want to think and just disturb the neighbors.
An aptly named, beautiful noisemaker.
What a fun pedal. It's capable of a surprisingly wide variety of sounds (which are all quite disgusting and awesome). Didn't keep it on my pedalboard for live, but that's not what it wanted to do anyway, in my opinion. Highly recommend for those who do not fear nastiness.