Demedash Effects
Regular price
$340.00 USD
Regular price
Sale price
$340.00 USD
Unit price
per
Sale
Out of Stock
FREE International Shipping

USA Free 2 Day Shipping

Demedash Effects are Currently Eligible for Free International Shipping
No Hassle Returns

Just let us know within 30 days.

If there's a malfunction, shipping's on us.
Dimensions

125B Enclosure
Lenth 4.7"
Width 2.5"
Height 1.6"
Specifications

9V DC Center Negative
Current: 100mA
Mono in, Stereo out via TRS plus
Buffered bypass (mono in, dual mono out in bypass)
Analog signal path. 1200ms Max delay time.
The "T120 Deluxe" , has all the attributes of his litte brother, the V2, with these brand new Features.

Tap Tempo Tape Tapestry: 4 selectable tap divisions allow you to choose whether you'd like to use Quarter notes, Dotted Eighths, Eighth notes or Triplets. Just like on the T120 DLX V1, you can hold down this footswitch in either bypass or during regular operation to activate the swell feature and bask in the chaotic echoes that rise up and self oscillate. 
Smooth or Glitchy: Use the Glide control to adjust the smoothness or squareness or the LFO, giving you access to random computery bleeps and bloops or taking you into the realm of smoothly varying uncalibrated tape-head mechanisms that cause your pitch to drift.  

Echo Trails or not? Decide later: Select whether echo trails are activated on the fly! While the DLX V1.5 allowed trails selection with an internal DIP switch, the DLX V2 lets you switch them on and off right from the front panel with no fuss.  
3-D for your ears: A new stereo-field generation design improves the depth of field by keeping your dry signal completely identical on both left and right channels, and inducing changes only in the wet signal on each respective side.
Time: At minimum about 60 ms of delay is available. Setting it here allows you to use the primary and secondary LFO controls (Depth, Speed, Glide and Randomize) to create a number of different Chorus and Vibrato textures.
Tape Quality: Raises or lowers the bandwidth of the delayed signal. At low settings echos degrade further and further with each repeat, reducing fidelity and allowing the playback to float on top of your playing. 
Depth: Varies the amount of pitch-shifting vibrato induced in the recorded signal. More clockwise = more pitch swing. Higher delay times and faster modulation speeds can also lead to wider pitch swing.
Bypass/Engage: When in bypass you can also press and hold this switch (one second or more) to 'momentarily' engage, returning to bypass upon release.
Alternate Parameter Access: Footswitch. While the effect is engaged, hold down the 'engage' footswitch. Once the indicator turns yellow, you are in ALT mode.
Continue to hold the footswitch down and turn the knob of the alternate parameter you wish to adjust. Once you've released the footswitch and the indicator light turns back red, any modifications you've made to the alternate parameters are saved so the next time you turn on your T120 , they'll still be just the way you set them.
Tap Tempo: Footswitch. Tap the Left Hand footswitch two or three times to enter a tempo. The time between the last two taps is what will be set. The maximum delay time is about 1200 ms so if the tap tempo exceeds that then it will be divided in half, giving you a double time echo that remains aligned with the desired rhythm. Divisions are applied beforehand, so as long as your divided tempo is under 1200ms you get what you'd expect. Tempos can be entered in bypass or engaged modes.
Echo Swell: Right Footswitch. To engage a swell-that is, to momentarily set the repeats of the delay to maximum intensity, hold down the Left footswitch.
You can do this both while the effect is engaged and while the effect is bypassed if you wish to momentarily activate the effect and add a swell to a note.
Glide: Depth's Alternate Parameter. Controls how smooth/Jittery the modulating waveform is. Set fully clockwise the pitch will jump to random values (Random levels if using a fully random wave, a square wave if using a fully periodic wave).Set clockwise the pitch will vary smoothly up and down (Random slopes if using a random wave, a triangle wave if using a fully periodic wave). This is the factory setting.
In between, you will have a waveform that glides quickly to its target value and sits there before gliding to the next one.
Randomize: Speeds Alternate Parameter. Controls the shape of the modulating waveform. Mix between fully periodic (Square/Triangular) and completely randomized (continuously varying levels/slopes). This knob offers a continuous spectrum of blending options, so there is a huge variety of shapes to play with.
Slow, fully random modulation is an especially nice touch when trying to dial in the sound of a mid-90s wedding video, as one often does. Factory setting is 50% randomization.
Divisions: Time's Alternate Parameter. 4 way selector between the various tap delay settings, evenly spaced from fully counterclockwise to fully clockwise. 
Quarter(Q)
Dotted Eighth (DE)
Eighth (E)
Triplet (T)
When you are in ALternate Parameter Mode, as you turn the Div control, the indicator LED will blink red once each time you update the selection to a  new tap tempo.
View full details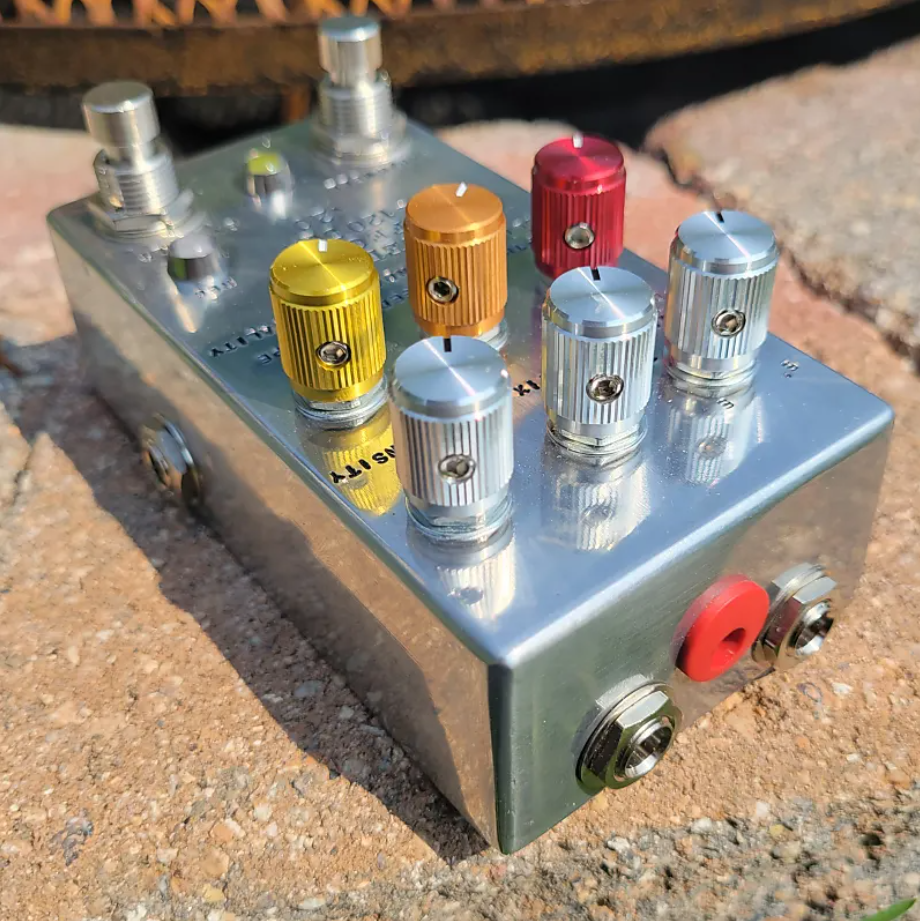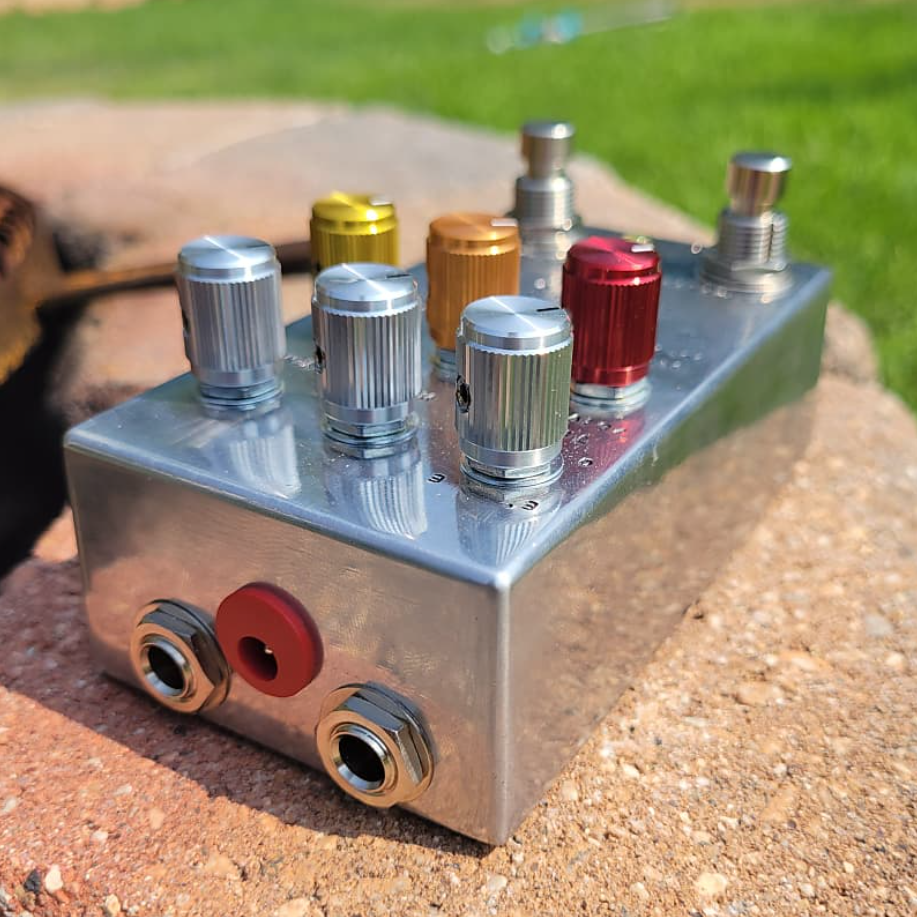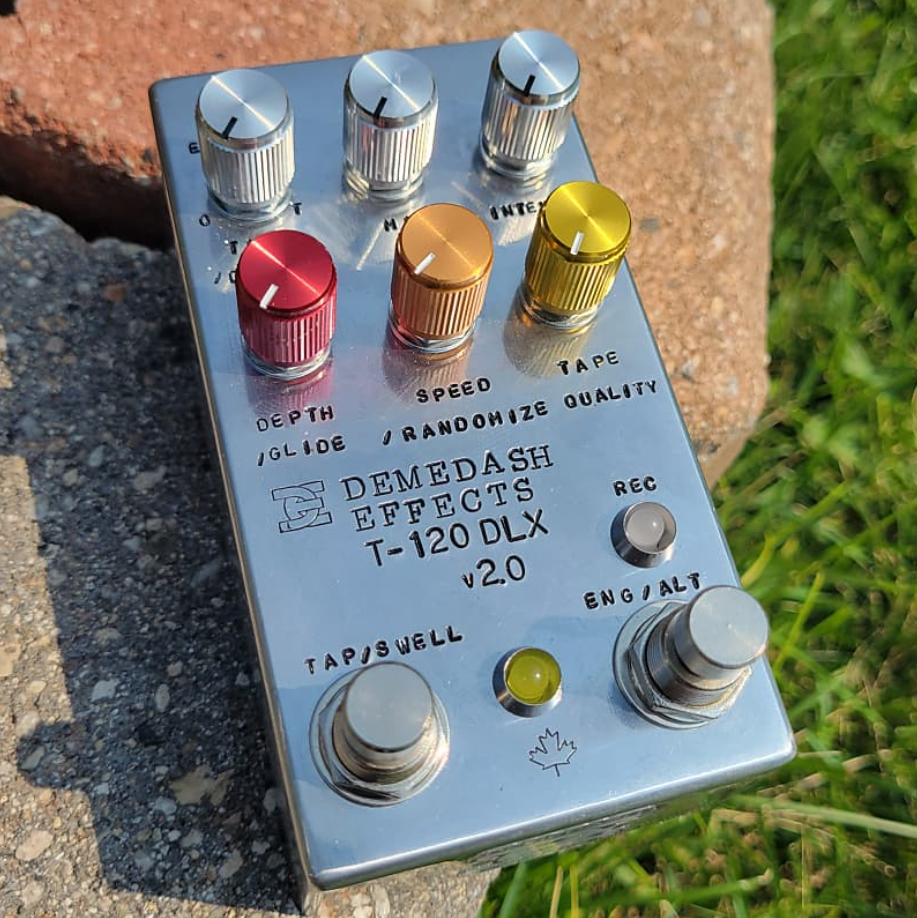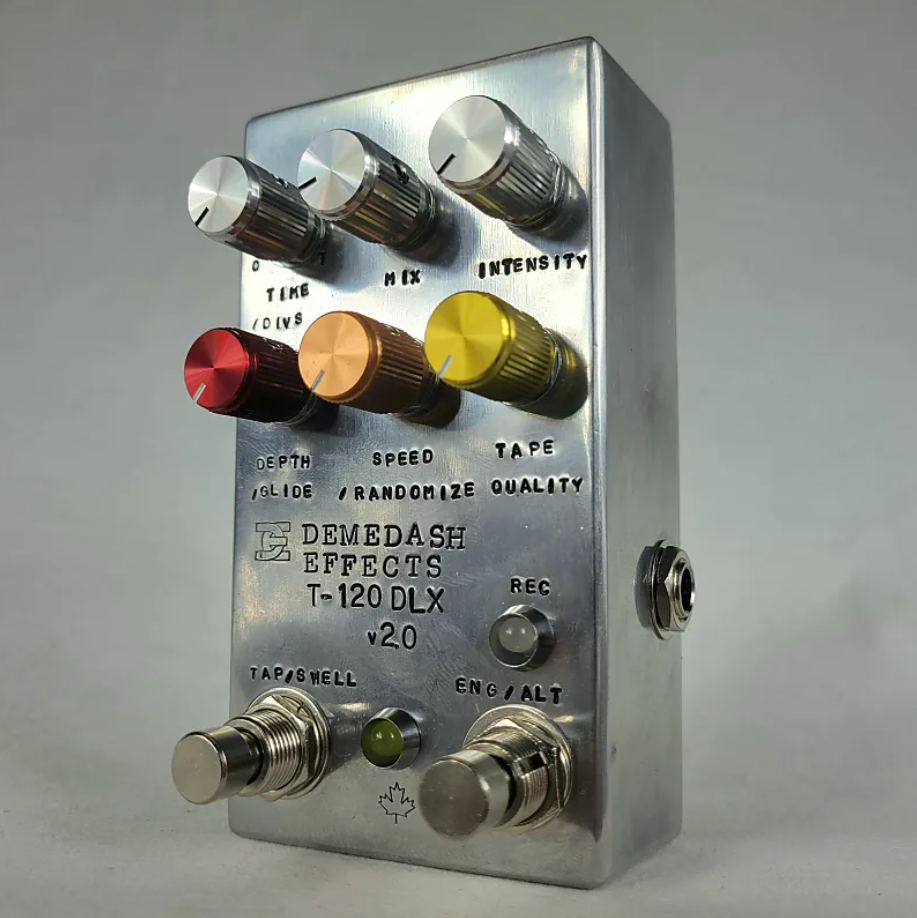 V-2 (Versatility 2?)
I know it (the V) stands for "Version" but it should be Versatility. At least in my brain. It does what 1 does, but so much more. None of the secondary functions are difficult to manage at all. Just hold the button and turn the knob. You can also do this... when it's off you can step and hold on the Tap switch and bring in that oscillation sound without actually turning it on. This is easily one of the greatest delay pedals I have ever played. I'll be soon doing a couple more reviews on some of these companies pedals here on S.S.nyc... Anyway... it's well worth it. Everything Demedash does is. Peace.
Very cool tones
I ran into this pedal via a SamuraiGuitarist video on YouTube about gimmicky pedals, but this one is far from a gimmick. It does beautiful lofi warbles and echoes in an extremely musical way, and encourages exploration. It's a blast to play, highly recommended.
Very Cool Radiowaves
When I think about pedal builders who are pushing the envelope it's an idea like this that gets me excited. The idea of making a tape delay sound like a vcr tape is as original and retro futuristic as it gets. Plug in your microfreak and make some synthwave. With all the greatness of the original and then some.
Absolutely Stunning
This is hands down the best sounding single type delay pedal I've played. Unfortunately, I sold mine when I got my Echosystem, thinking the tape delay would be just as good. It's pretty good, but it's not THIS. Feel me?
Bigger and better
Everything I loved about the original is all still there but now with stereo out! That and they added the subdivision and tap tempo. They really polished this. I'm amazed at how long the delays can go and how well implemented and integrated the functions are. This will be staying on my pedal board. Excited to see what else they'll have to offer in the near future.