Rift Amplification
Regular price
$199.00 USD
Regular price
Sale price
$199.00 USD
Unit price
per
Sale
Out of Stock
FREE 2Day Shipping

USA Free 2 Day Shipping

Canada 15USD Flat Rate*

Worldwide 30USD Flat Rate*(Wherever you are)

Flat Rate means no additional charge for more than one pedal.
No Hassle Returns

Just let us know within 30 days.

If there's a malfunction, shipping's on us.
Rift Amplification's EL34 Pedal is more than an EQ and more than a Boost! As the name implies, the EL34 Pedal emulates the characteristics of a Power section of the most famous amplifiers of our time. This includes Marshalls, Orange Amplifiers and of course, Rift Amplification.
With or without tubes, the El34 Pedal EQ and Boost will sound like you're plugging into the power section of an EL34 loaded amplifier. Already have an EL34 amplifier? Use this pedal as an extra voicing and Boost to really push your amplifier into harmonically rich overdrive.
True point to point construction using the same components as Rift Amplifiers. Hardware includes Switchcraft sockets and Gorva footswitches.
View full details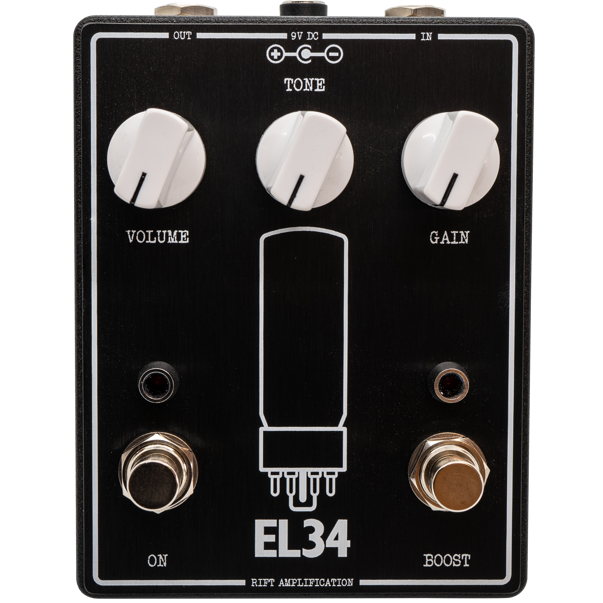 Harmonically Rich
This makes tubes sound like you always imagined. Gets the right balance of even and odd order harmonics allowing many choices of gain. Get it!
Make any amp a marshall
Rift nailed it. I use this with on the dirty channel of my silvertone and suddenly i went from a cheap sears amp to a full fledge plexi. Im amazed at how this works regardless of the amp and guitar. The tone control is one for one with a marshall. One of my favorite pedals.
Very useful pedal
Top quality build frequency enhancer and booster - recommended
Great sound shaper, super low noise
I heard this used on That Pedal Show (youtube). Both Dan & Mick mentioned how quiet it was.
I have had this on my board for about a month. It not only has a nice preamp to change say your Fender sound to more Marshally it has a great boost as well.
Great build quality as well.
Thanks,
Gordon
EL34 Pedal EQ and Boost
Really great pedal - adds this cool presence - not really overdriven - more like a shimmer - makes your Fender voiced amp sound British - run it through a Marshall voiced amp and it's a great boost. Build quality is amazing. Highly recommended.