Mid-Fi Electronics
Regular price
$250.00 USD
Regular price
Sale price
$250.00 USD
Unit price
per
Sale
Out of Stock
FREE 2Day Shipping

USA Free 2 Day Shipping

Canada 15USD Flat Rate*

Worldwide 30USD Flat Rate*(Wherever you are)

Flat Rate means no additional charge for more than one pedal.
No Hassle Returns

Just let us know within 30 days.

If there's a malfunction, shipping's on us.
Delay
Delay Machine with Modulation that extends over an octave. 
Claripirate specializes in extremes other devices shy away from.
View full details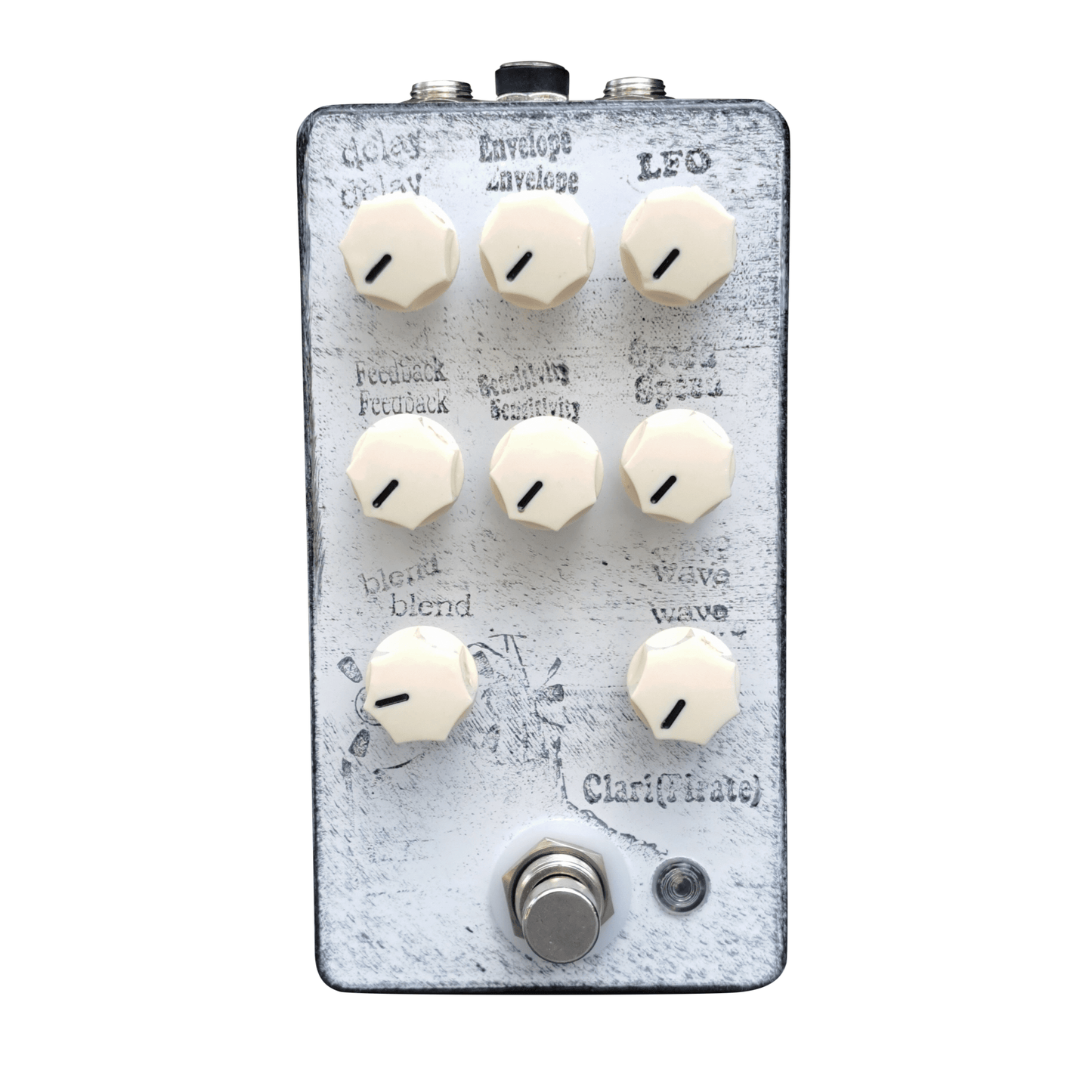 Unique and Wild
I've been eyeing this pedal for quite some time. I finally bit the bullet and picked one up. This is a really sweet delay with some features my other delays do not have. The pedal has a great range and can do traditional delay sounds but can also get into weird and crazy territory easily by a few knob adjustment while adjusting the envelope and sensitivity amounts.
The envelope control on this is pretty unique to me and can create tape delay sounding stops and stutters to your playing that can be adjusted to react to how hard you are playing. If you set the sensitivity just right, hard playing or abrupt stops in your playing cause it to detune and it sounds like its unraveling. All of the knobs are very interactive with one another so there are many different sounds that can be achieved. I appreciate the range that this can cover, and the ability to go from more traditional delay to whacked out pitch-shifted sounds. It also does a LUSH chorus/doubling affect as well. This was my first Mid-Fi pedal but it certainly won't be my last!
Less Fussy Lo (or Mid?) Fi
Clari(Pirate) is easy, versatile and quick to dial in when I want to add a layer of antique warble to my tone. I was up and running within a few minutes. I expect I'll reach for this pedal more often than some of the more feature-rich lo fi pedals I own because 1) a delay is right there 2) I almost never want to bother with the fine-tuning (VHS or transistor radio? Degraded tape or faulty wiring?) other pedals specialize in.
Mid-Fi Magic
The Mid-Fi Electronics Clari(Pirate) was my first pedal from the brand, but certainly wasn't be the last. If you read reviews or watch demos, you know there's a quirky charm to Mid-Fi. For some, this is the draw as much as the anticipation of wonderfully inventive sounds. The Clari(Pirate) does not disappoint in either category. The build is solid and professional and the sounds are truly magical and inspiring.
Clari Pirate vs Deluxe Pitch Pirate
Understood that the Clari Pirate is a combo of pitch Pirate and clari(not), but does anyone know that if it has all the capability of the deluxe pitch Pirate? Think it's missing some knobs.
Wild and wacky
I'm a sucker for envelope control pedals when they work right and hate them when they don't. This thing is very zany and able to produce unorthodox noises with the pitch shifting and unpredictable feedback. Get it before it becomes a collectors item.